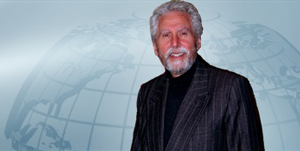 Who is Arte Maren?
Arte Maren has been a professional speaker and executive coach for 30 years. He has made appearances before sales, management and personnel related audiences. Traveling all over the world, he has appeared on radio and television in some eight countries and in just about every state in the U.S. including such shows as Larry King, Tom Snyder and Voice of America.
The Hubbard® Management System: The most practical, effective and easily implemented management system in the world!

"I was always keenly interested in making things work.  Once I had become involved with the Hubbard Technologies in 1963, I had learned enough principles to enable my life to be working better.  It wasn't until 1969 that I became acquainted with the Hubbard Management System.  I was fascinated by its simplicity and I had observed, through the Executives that I knew who had been using this system, the effectiveness of this Technology.  Most of my business life was involved with learning correct procedure but there were no fundamental truths or business laws underlying those procedures.  One had to basically remember that things were done a certain way.  It was the discovery that L. Ron Hubbard had researched the underlying fundamental laws of management that was so intriguing to me.
"I had always known and subscribed to the Japanese Samurai concept that by knowing one thing, you could know many things but it wasn't until I began reading the Hubbard Management Technology that I realized this applied directly to managing a business, or a relationship, or a life.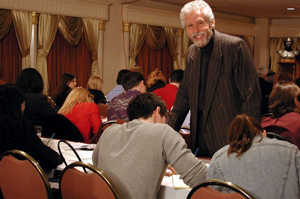 "At that point, when confronted with a business challenge or a situation that needed attention whether very positive or in need of improvement, it was only necessary for me to obtain the appropriate Hubbard Materials, mainly through the "Organizational Executive Course" volumes, and using the index to look up the Law that applied to that situation.  It was not necessary to read about the procedures or "how to handle" that situation because the Law was so fundamental, so explanatory that once knowing the governing rule, I was able to formulate exactly what had to be done without further instructions.  I later observed in my own business that this was the key to employee productivity.  It was not necessary to issue streams of orders to get things done, it was only necessary to provide, formulate or educate my staff on the underlying fundamental; which is often referred to as "Policy".
"After experiencing the effectiveness of the Management Technology, which is a complete system, I felt a need to communicate this system to other business owners and I became a Professional Consultant, lecturing and consulting with these materials.  I had only a few tools but the tools I did have were very effective and my consulting business began to grow.  One evening, in the early 70's, I had dinner with one of the executives of the Broadway Production of Hair who was relating various production problems they were having at the time.  I listened intently and the proceeded to demonstrate to him, on his napkin, various solutions based upon the Hubbard Technology.  He responded to these graphic solutions to his organizational problems with "I must take these napkins back with me to Chicago and show the Producer".
"I really gave it no further thought until 3 days later when I received a call, indicating that he had shown "the napkins" to the producer and requested that I fly to Chicago immediately for further consultation.  He offered a sum for the week which was more that I was earning for the month.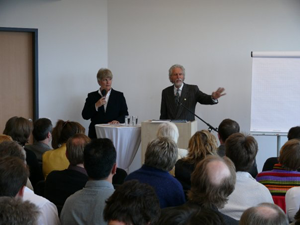 "My career had begun.  Since that time, I have vigorously studied all aspects of the Hubbard Management Technology, lectured on the subject all over the world, appeared on radio and television in the United States, Europe and Canada and established a consulting/training company in Clearwater, Florida.  Most recently, in 2009, I received the Wise International Lifetime Achievement Award for my work in the disseminating and utilization of the Hubbard Management Technology, assisting thousands around the world.
"Success is not only reflected by the growth of the company, of the amount of income it generates, but the real pay is the real help provided to others in the building of their business which in turn assists in the commerce of that city, state or country.  The application of the Hubbard Management Principles positively affects the economy wherever it is applied.
"My seminars are known in the United States and Europe, covering such topics as:
How to evaluate and motivate your employees

How to create a dynamic, highly productive team

How to boom your sales

How to handle social conflicts and unrest in the workplace

How to be a true leader

How to stably expand your business

Etc…
"I have had a chance to teach and share the principles of the Hubbard Management System everywhere in the world.  I am meeting bright, hard-working business people who do not just believe in theories or esoteric management principles; they need and want practical, easy-to-apply management tools. And that is exactly what the Hubbard Management System provides. Every kind of problem or challenge that can be addressed in any business can be answered with the Hubbard Management System."

Testimonials

"Thanks for the fun approach. The presentation was excellent and our team especially appreciated the eye-opening experiences you shared regarding
the importance of taking action!"
James R. Wells – Category Marketing Nestle Food Company"

'Nuts and bolts' management tools. Arte Maren's presentations not only make an impression, they make a difference !"
Frank Tuminia – Director of Training and Service – Teledyne-Laars

"Applicable data, delivered forcefully but in an entertaining manner".
Michael Johnstone – Century 21 Real Estate

"Viable methods to plan more effectively"
V. Tirman – Del Taco

"Enjoyed the simplicity and the humor"
K. Williams – Howard Hughes Corporation

"Outstanding presentations !"
Barbara Ciaffardini – AAMCO.

 

"The discussions of the necessity of office management efficiency and connection to stress were extremely valuable."
R. Scott, Attorney"

A wonderful presentation. The feedback was fabulous !"
Shelley Hoffman – Markson Practice Management Services

"Very useful sales information, highly recommended!"
Brian Kohut – Trade Show Manager Bank of America

"Real life application ideas."
M. Duncan – CPA

"A master of sales motivation and training methodology"
Jack Weinstein – President – Tower of Jewels

"Words cannot express the excitement I have after taking your class. The tools I have learned far surpass any that I have taken anywhere at anytime."
Bernard Furshpan D.C.